CADILLAC AREA CHAMBER OF COMMERCE PUBLICATIONS
We offer a variety of high quality publications; including the Business Magazine and the
Membership Directory. In addition, we also offer the Member News which allows members to
post any changes in staff or other noteworthy things happening within their business. Each
publication is created to celebrate the Cadillac area, inform, and promote our members.
The Cadillac Chamber Membership Directory is published annually. It acts as a way to showcase our members and increase referral-based business four our members.
Our Chamber is excited to announce our partnership with Harbor House Publishers. Together we will be creating a Community Profile and Chamber Membership Directory. This piece will be available in both printed and electronically. We are proud to showcase how beautiful Cadillac and Wexford County area.
Community Profile & Chamber Membership Directory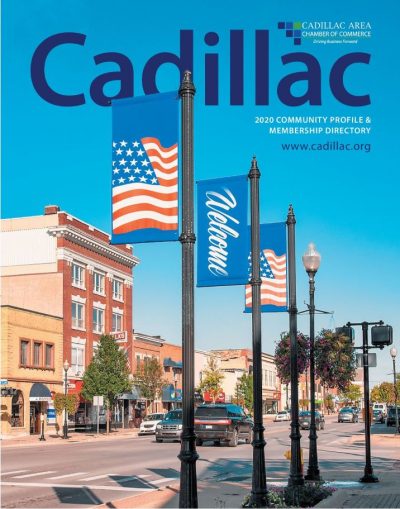 MEMBER NEWS
The Cadillac Area Chamber of Commerce members are leading businesses in our area. Find out about their initiatives and milestones right here.


Members can share news items on our Web site as one of the many benefits of chamber membership.
Please note our Website Publication Policy: The Cadillac Area Chamber of Commerce reserves the right to edit or refuse content, advertisements and other information submitted to the Cadillac Area Chamber of Commerce Website. If you need your login information or help with submitting information please contact the Chamber at 231-775-9776 or info@cadillac.org .