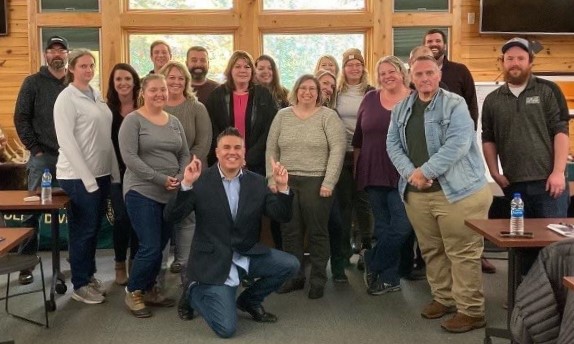 Follow us on social media!
WHAT IS CADILLAC LEADERSHIP?
Mission
To provide an engaging atmosphere for the development of emerging leaders with opportunities for identifying and investing their skills and passions to benefit the Cadillac community while creating lasting relationships.
Cadillac Leadership is a nine-month program that meets once a month October through May. In addition, there is a two day, overnight opening retreat in September. Each of these days is designed to network with other emerging leaders in the area and leadership groups to form strong bonds with one another.
Participants must be committed to attending the retreat and each of the monthly leadership days where we get to know area business leaders and organizations, understand how they impact our community, and to focus on servant leadership.
Leadership Class Roster
2022/2023
Abigail Pluger, City of Cadillac
Andrea Bushre, 9 & 10 News
Angela Henslee, Horizon Bank
Beth Miller, Cadillac Area Chamber of Commerce
Bob Reddick, YMCA
Chelsi Sherman, AAR
Eric Gokey, Cadillac Casting
Gunner Meyers, Clam Lake
John Dykstra, Darrick Earegood State Farm
John Leech, YMCA
Jonathan Deyoung, Rexair
Kaitlyn DeBoer, Baker College
Kari Steenwyk, Mercantile Bank
Kelly Hondorp, After 26
Kimberly Blaszak, Wexford-Missaukee ISD
Kristen Kendall, Wexford Transit Authority
Lisa Miller, Alliance for Economic Success
Marci Hensley, Cadillac Area Visitors Bureau
Megan Staten, Avon Protection
Michael Crotty, Borg Warner
Nicole Richardson, Cadillac Area Schools
Zach Grogan, Cadillac Casting
Hear directly from past participants and sponsoring employers on why they support Cadillac Leadership:
The Leadership class helped me make great connections and friends for life! After taking the class I got to know more about Cadillac and the community I now call home!
I was able to participate in the similar Leadership Program from the Big Rapids Area Chamber of Commerce before moving to Cadillac. I learned that sometimes you need to be a follower and allow others to lead. I also found my passion for community engagement which is very personally important to me and quickly became engaged in our community in Cadillac, shortly after moving here.
Going through the Leadership class was a great experience. I learned a lot about the many collaborative endeavors with area businesses, local and state government. The class projects have benefited many organizations. Many class participants make lifelong friendships and become part of  a great network that have benefitted them and their employees. I really believe in this program and have been on the Leadership board since taking the class in 2003/2004.
The best tour of Cadillac was through the Leadership Program.
"The Leadership program was able to drop me into the heart of this city and learn more in the course of a few months than I had in the previous two decades. This program reciprocates your efforts two-fold, and given the outstanding efforts those selected for this program can deliver, the outcomes are invaluable and still being recognized today.

-Cadillac Leadership Alumni 2020-2021
I was part of the 2017-18 Cadillac Leadership Class, a.k.a. The Best Class Ever!  I had an amazing experience, and I highly encourage anyone who gets the opportunity to be part of the Leadership program to do so.  During the program, I was able to make new, lifelong friends, learn and visit places in the area that I grew up in but still had little knowledge of, challenge myself in different situations, and so much more!
Questions?
Contact Bethany Miller, Leadership & Operations Director
–

(231) 775-9776
bmiller@cadillac.org
222 North Lake Street
Cadillac, MI 49601