MISSION STATEMENT
Cadillac Area Young Professionals (CAYP) is dedicated to providing young professionals between the ages of 21-40 with the opportunity to network professionally and socially with each other. CAYP is committed to professional development and contributing to the communities of Greater Cadillac both through volunteer opportunities and leadership roles. Our goal is to promote a networking environment that helps attract and retain the next generation of business leaders.
EVENTS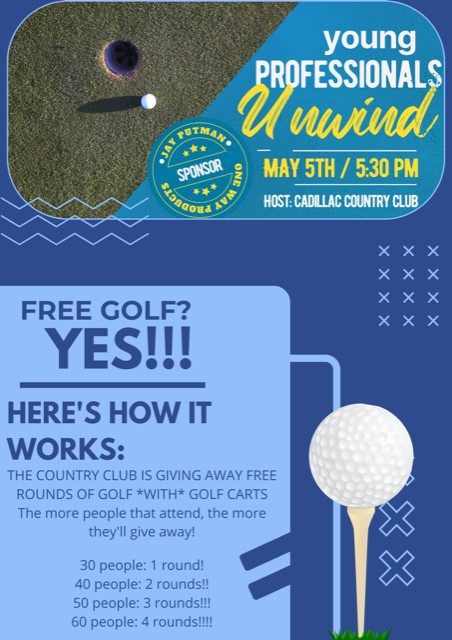 OUR GOALS
The CAYP is a goal-oriented voice for young professionals in the greater Cadillac area; providing volunteer and leadership opportunities through a networking-focused environment.
NETWORKING OPPORTUNITIES

We are committed to providing a casual atmosphere for young professionals to gather and network. We want to encourage relationship building between professionals who might not otherwise meet in standard professional circles and not force those who choose not to network while attending an event.

COMMUNITY INVOLVEMENT

We recognize the opportunity for young professionals to become more involved in the community in several ways and is dedicated to identifying and facilitating those opportunities. As young professionals and leaders of the next generation, the members of CAYP provide a crucial voice in the community.

PROFESSIONAL GROWTH

We are committed to providing its members with the opportunity to grow professionally and advance in their careers through interactive programs, round-tables and panel discussions with local business leaders and government officials.